Careers Talk
Project management at BidFX
7 August 2018
Natalie Walker, Project Manager, BidFX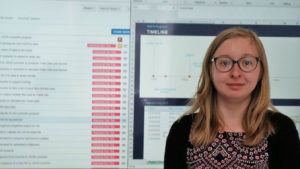 BidFX offer the world's best FX Execution Management System. Having been at BidFX for just over one month, my first impressions have been overwhelmingly positive. In my role as a project manager I have the luxury of getting to work with everyone in the company. While there are differences in what the various teams do, there is one thing they have in common; a sense of pride in their software and a belief that theirs is truly a leading execution management system. In many ways that makes my job significantly easier. When the people building the software are passionate about delivering robust high-quality code, it makes managing projects simpler, allowing me to focus on supporting the team, planning our future projects and delivering the current ones on time. It also provides reassurance, both internally and externally, that when new features are implemented they are well built, comprehensively tested and the team supporting them knows them inside out.
On the flipside when you have a sales team who are motivated by delivering the best for their clients including getting any improvements or changes turned around as quickly as possible, that presents a different challenge. There is a constant compromise between delivering strategic projects such as our forthcoming FX Options offering, and important tactical improvements specifically requested by clients. What I've been impressed with is BidFX's ability to do both. 
That's where I come in as a project manager/scrum master. My role is to keep things organised and support the developers so that they can deliver functionality for our clients on time and to a high standard. Another part of my job is discussing new requests from clients with the sales team. It can be challenging to balance the changing priorities and try to keep everyone happy! These challenges are one of the reasons I love my job, and BidFX have been nothing but welcoming. Having moved from a large retail bank to BidFX I've noticed how well everyone works together, the support internally is amazing and there is a real focus on training and development.  
Now that I've got my bearings and truly feel a part of the BidFX team, what's next? Well for now, my focus is on delivering our FX Options project, supporting the development team who focus specifically on client requests and encouraging the newest members of our development team to work in an agile way. Following that I look forward to getting better insights into how our various client's workflows map to the rich feature set of TradeSmart, kicking off a whole new set of projects and helping the team to continually improve their processes and practices. I look forward to playing my part in progressing the world's best FX EMS.