Media & Industry News
BidFX partners with C8 Technologies to offer tradable FX indexes

LONDON / SINGAPORE, 29 OCTOBER 2020 – BidFX, the leading cloud-based provider of electronic foreign exchange trading solutions, today announced its partnership with C8 Technologies, the direct indexing pioneer, which will enable asset managers to undertake direct indexing via their chosen relationship banks, available on the BidFX system. This will allow C8's tradable FX indexes to be tracked and executed directly on the BidFX platform.
nitially, the C8 FX Combination Index, a monthly-trading, systematically-weighted aggregate of C8's FX macro and risk-premia indexes will be available, with more to follow, including AI-driven FX indexes.
BidFX Head of EMEA Sales, Roger Lee, commented: "Beyond the algo suite and execution tools, which traders are familiar with on BidFX, the C8 indexes add a new avenue for our asset manager clients to explore, as they seek long term alpha from forex as an asset class. This is a highly innovative partnership of leading technology solutions and we expect the relationship and client uptake to flourish."
C8's CEO Mattias Eriksson said: "We believe that C8 partnering with BidFX, and their cutting-edge FX execution platform, will make for a powerful combination. As direct indexing pioneers, we can make it easy for asset owners to replicate the performance of our indexes, by trading the underlying positions, through BidFX. We are delighted that our FX indices will be integrated into the BidFX platform, for seamless trading by users."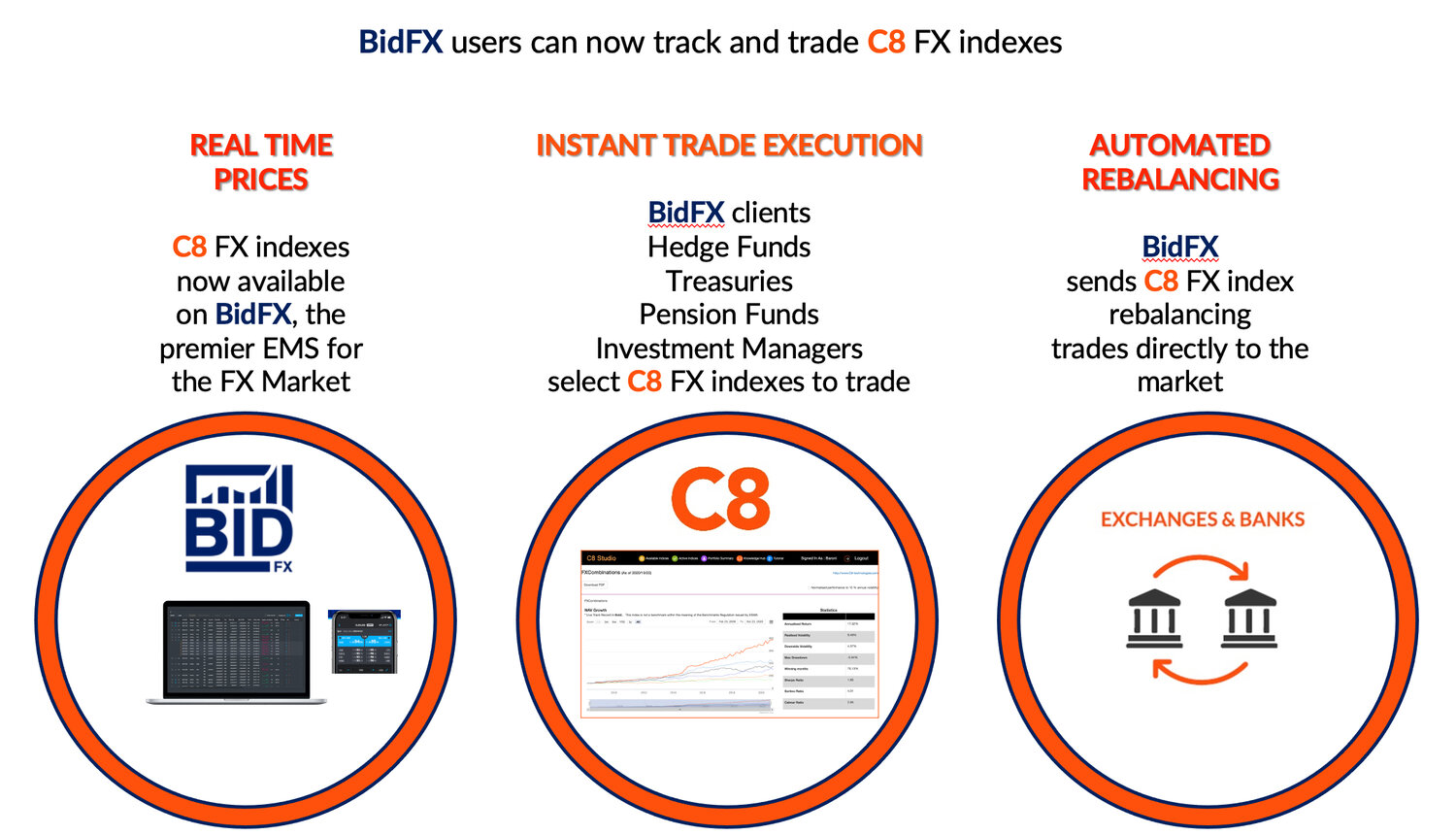 C8 Technologies www.c8-technologies.com provides direct access to active and passive, tradable indices developed by leading investment professionals and in house. Institutional and professional investors can get the performance of any institutional-grade investment style by directly trading the underlying assets, at lower cost, with their own broker. Our patented process is unique in the financial markets, bringing many advantages to the asset owner including holding onto their own capital, full transparency on the underlying holdings and full control of trading, which allows for customisation at will. By using C8, an asset owner can increase capital efficiency and avoid ongoing costs of operational due diligence.
For C8 related enquiries:
Jonathan Webb, C8 Technologies | E: jwebb@c8-technologies.com, P: +44 20 3826 0050
Media – Anthony Shewell, Fin International | E: a.shewell@fininternational.com, P: +44 7836 293351
Media – Ivo Forde, Fin International | E: ivo.forde@fininternational.com, P: +44 771 364 2828
For BidFX related enquiries:
Roger Lee, BidFX Head of EMEA Sales | E: roger.lee@bidfx.com, P: +44 20 7149 3141
Media – Elaine Chia | E: elaine.chia@bidfx.com, P: +65 8322 3660