Careers Talk
BidFX from the perspective of a sales intern
2 August 2019
Hannah Brooks, Sales Intern, BidFX
 "An internship is like a trial run, you get to try out the firm and they get to have an extended interview with you."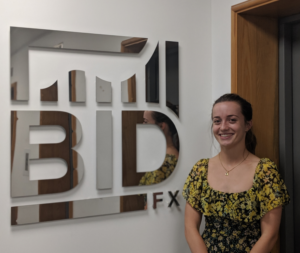 Finishing university brings about a plethora of exciting yet intimidating and difficult decisions. Students are faced with an interesting dilemma when it comes to making money and using their degree to gain experience, as often the two are mutually exclusive. Hence, upon finishing my Commerce & French degree I was delighted to accept an offer from BidFX for a three-month internship with the Sales & Account Management Team.
The world of FX let alone finance seems a daunting world from the outset, and a world where experience is vital. Despite this, I have hit the ground running since joining BidFX almost two months ago. It is an exciting time in the company as BidFX is going from strength to strength resulting in a period of rapid growth and increased market share, as a result there have been many new starters while I have been here. This has given me the opportunity to attend numerous training sessions with the new joiners, which has been invaluable. Listening to the questions and answers from those more experienced has allowed me a large insight into the market and the different job roles within the firm, it has emphasised how each layer of a team is as integral as the next. During my first week I sat with different members of the various teams to gain an insight into what they do and how they do it. This reinforced the idea in my head of how the BidFX teams work in a cyclic dynamic, without the Development Team there would be nothing to sell, yet without the Sales Team they would have no income and so forth.
When growing up a career in FX is not one that a child dreams of, however, having spoken to many of my colleagues across BidFX it appears that although no one could have guessed they would end up here, it has proved a truly rewarding and stimulating workplace in all the right ways. Working in a market as large as FX opens employees up to an unfathomable number of opportunities, having been an intern here I feel lucky to be subjected to some of these. On my first day I was told how the FX market is the largest in the world, with $5 trillion being traded every day. This number will forever blow my mind!
Working in FX and Account Management
I have completed seven weeks of my internship, which marks halfway. I am getting used to things around here, how people work and the dynamics within the company. As the only graduate in the Sales team I have been thrown in and am trying to absorb as much as I can. After playing around on all the platforms and creating "test user" logins for UAT I feel as if I now have a much greater understanding of the BidFX products and platforms. So far, I have enjoyed my time at BidFX, it has given me an excellent understanding of what working in the niche world of FX entails. Moreover, having colleagues that I enjoy working with has made the experience even better, especially as I have so much to learn. I feel comfortable asking questions so long as I don't ask the same thing twice!
Being an intern is an experience, especially as the ideology of give and take is typically somewhat unbalanced. As a fresh-faced graduate there is a great deal to learn, hence, what you can offer to a company is in a sense limited, for the time being. However, I believe it is important to ask questions when you don't understand and don't be afraid to ask for work, there is no point wasting your time and the company's time. My team and everyone else here at BidFX have been very friendly and are always happy to help me. I would recommend any graduate to do at internship at BidFX, whether they come from a business background or computer science.